A Room-By-Room Look at What Renters Insurance Could Do For You
We know what you're thinking. I can't afford to buy insurance. I'm already paying rent and have enough expenses to cover each month. But how much do you think it would cost to replace all of the items in your apartment? Let's do a little math…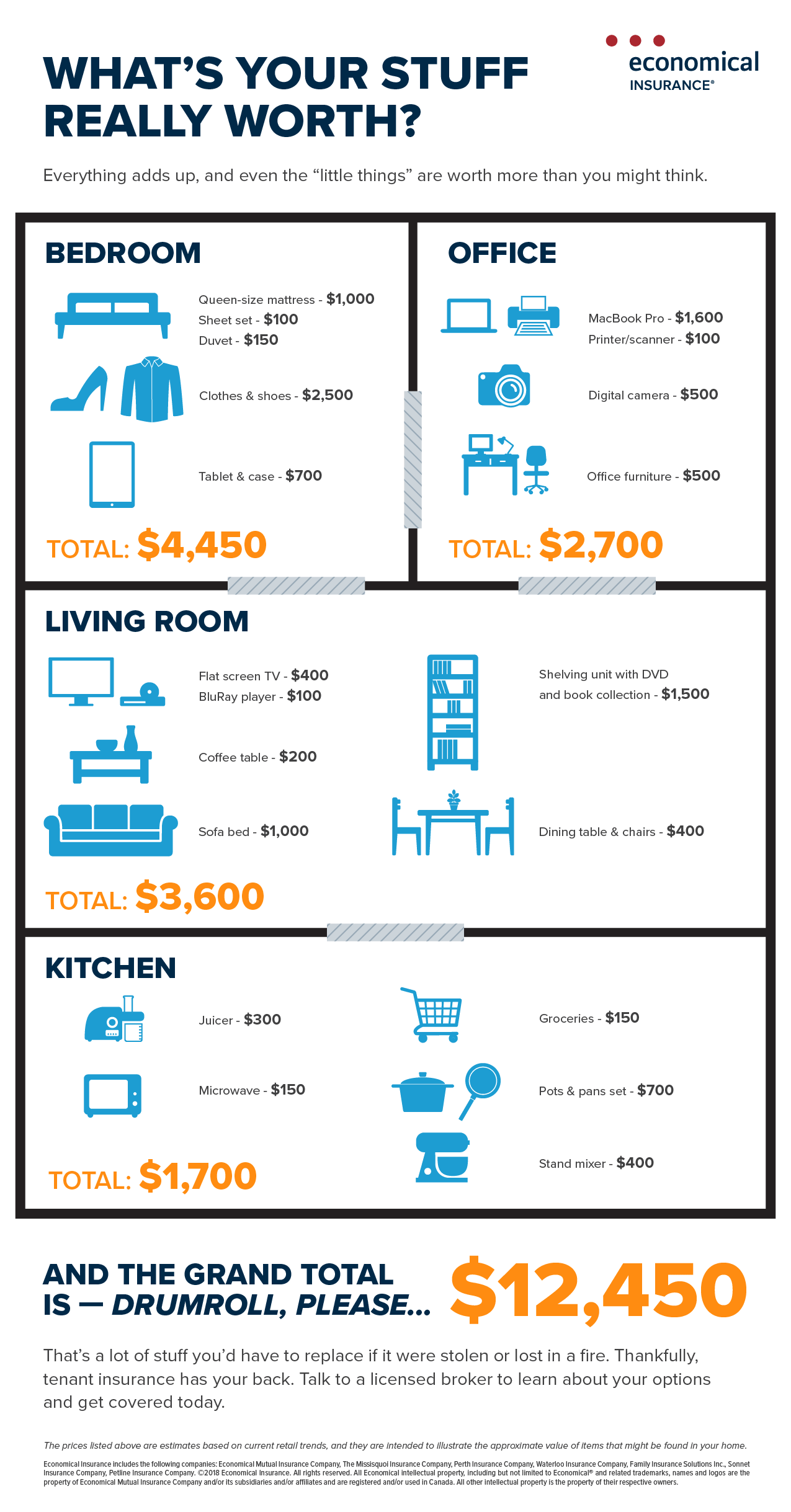 What's your stuff really worth?
Everything adds up, and even the "little things" are worth more than you might think.
In the bedroom
Queen-size mattress, $1,000
Sheet set, $100
Duvet, $150
Clothes & shoes (heels and runners), $2,500
Tablet and case, $700
Total: $4,450
In the office
MacBook Pro, $1,600
Printer/scanner, $100
Digital camera, $500
Office furniture, $500
Total: $2,700
In the living room
Flat screen TV, $400
BluRay player, $100
Coffee table, $200
Sofa bed, $1,000
Shelving unit with DVD and book collection, $1,500
Dining table & chairs, $400
Total: $3,600
In the kitchen
Juicer, $300
Microwave, $150
Groceries, $150
Pots and pans set, $700
Stand mixer, $400
Total: $1,700
And the grand total is — drumroll, please… $12,450
That's a lot of stuff you'd have to replace if it were stolen or lost in a fire. Thankfully, tenant insurance has your back. Talk to a licensed broker to learn about your options and get covered today.
The prices listed above are estimates based on current retail trends, and they are intended to illustrate the approximate value of items that might be found in your home.
Economical Insurance includes the following companies: Economical Mutual Insurance Company, Waterloo Insurance Company, Perth Insurance Company, The Missisquoi Insurance Company, Sonnet Insurance Company. ©2016 Economical Insurance. All rights reserved. All Economical intellectual property, including but not limited to Economical® and related trademarks, names and logos are the property of Economical Mutual Insurance Company and/or its subsidiaries and/or affiliates and are registered and/or used in Canada. All other intellectual property is the property of their respective owners.
All in all, you likely have at least $12,000 worth of stuff that you'll have to replace if the unthinkable happens. Without renters insurance, not only will you need to find a new apartment and pay for a place to stay in the meantime, but you'll likely need to replace that $1,600 laptop and $1,000 mattress yourself, too.
Renters insurance has you covered when it matters most — and it protects a lot more than your stuff. Learn about some of the other ways renters insurance can protect you or talk to one of our knowledgeable brokers to find out more.
Originally posted on Economical.com