Before, during, and after an ice storm
How to prepare before an ice storm
It's a good idea to stay prepared for severe weather all winter long. Take these steps as soon as possible so you'll be ready if an ice storm hits:
Keep these items in your family's emergency kit: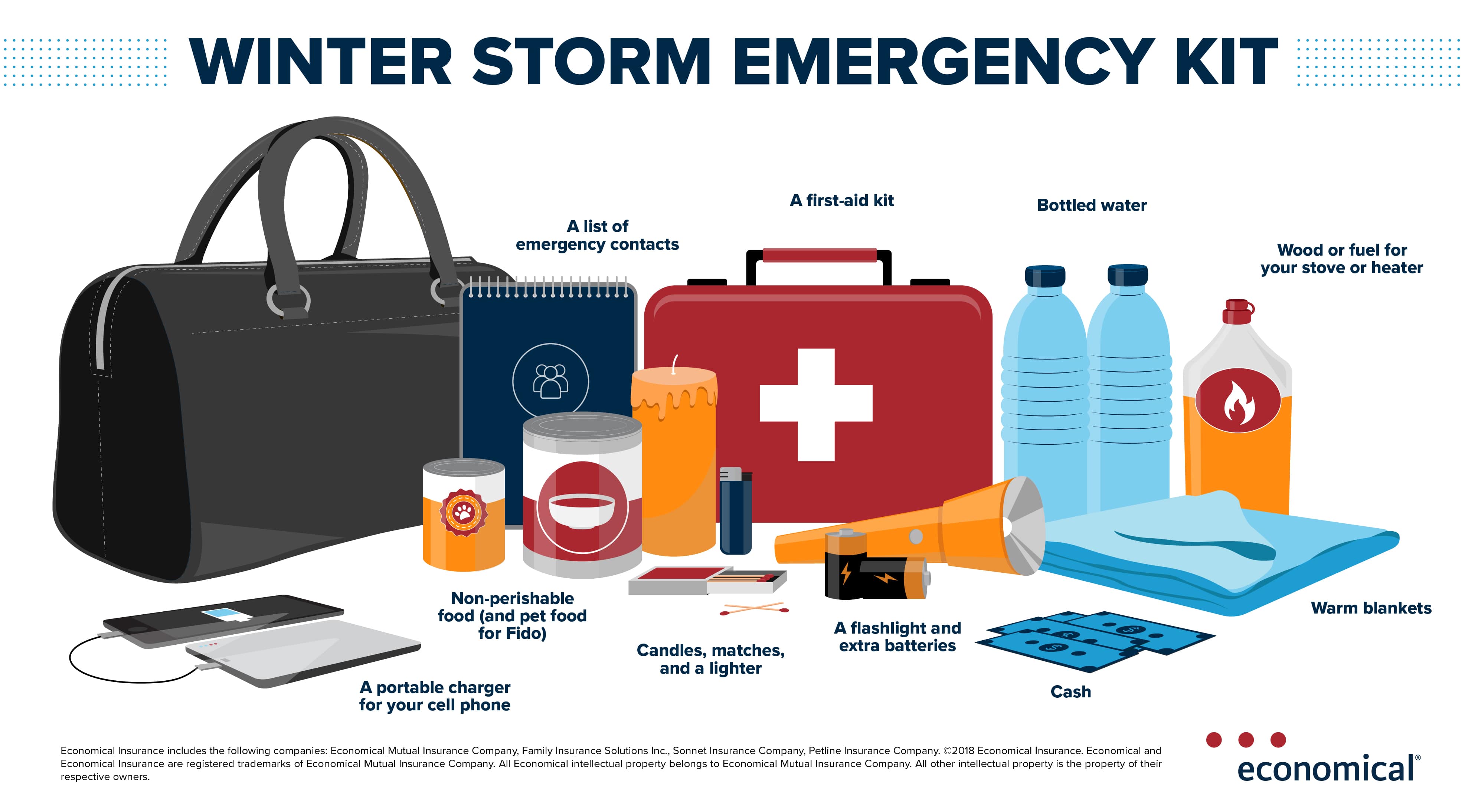 Winter storm emergency kit
A portable charger for your cell phone
Cash
Wood or fuel for your stove or heater
A list of emergency contacts
A first aid kit
Bottled water
Candles, matches, and a lighter
A flashlight and extra batteries
Warm blankets
Non-perishable food (and pet food for Fido)
(Viewing this from your smartphone? Click here to enlarge.)
What to do during an ice storm
Once the freezing rain has started, keep these tips in mind:
Hunker down in a safe place and wait out the storm. 

It's best to stay inside during an ice storm, as sidewalks, roads, and other surfaces will likely be extremely slippery. Trees and power lines may also break and fall down as they get coated with ice, which can be dangerous for anyone who is outside.

Keep pets indoors as much as possible. 

Bring outdoor cats inside, and if you have to take your dog for a walk, consider these tips to keep them safe and warm.

Avoid driving your vehicle.

 Even the smallest amount of freezing rain can make the roads extremely slippery and dangerous. If you absolutely have to drive during an ice storm, proceed slowly and leave lots of room between your vehicle and the one in front of you, like you would during a snow storm.
What to do after an ice storm
After the storm has passed, you might be tempted to get out of the house to salt your sidewalks or go to the store to re-stock your supplies. Consider these tips before leaving the house after an ice storm:
Dress appropriately for the weather. 

There's a good chance it's still pretty chilly outside, so make sure you're wearing warm enough clothing. Wear warm boots with good tread, as sidewalks, parking lots, and roads are likely to be slippery.

Watch out for falling ice, branches, and power lines.

 Even hours after the freezing rain has stopped, ice, branches, and power lines can continue to break and fall down. Avoid walking or driving under trees or anything else that could be coated with ice and stay away from downed power lines.

Clear your sidewalks. 

Try your best to get rid of ice that has built up on sidewalks and walkways around your property and apply a de-icing product to help melt the ice and prevent slips.

Stay off the roads if possible. 

After a major ice storm, it can take communities a while to clear their roads — especially if there are downed trees and power lines. Avoid driving as much as possible until roads have been cleared and coated with salt or sand. If you have to drive somewhere, go slowly, steer clear of tree branches and downed power lines, and stick to major routes that are more likely to be clear.

Inspect your property and the immediate surroundings for damage. 

If you spot downed powerlines or tree branches nearby, contact your local police or hydro company. Don't go near downed powerlines.

Check for a buildup of ice on your roof. 

Ice dams can do serious damage to your home, and they shouldn't be ignored. If you notice a buildup of ice or snow on your roof, consider hiring a professional to safely remove it.

Contact your insurance broker if your car or home has been damaged.

 If it's outside of your broker's regular business hours, contact your insurance company's 24-hour claims service line.
If you're wondering how your home insurance policy could protect you in the event that your home is damaged in an ice storm, contact your licensed insurance broker today.